Every election cycle the amount of money spent trying to sway results increases.  Because of the Citizens United decision but other factors, too, the volumes of money involved makes news daily.  You read all the time about just how much money is sloshing through the system, the big donors providing it, the tricky ways it ultimately filters through to candidates via various PACs and other committees.   But I don't want to just know about the activities of the Koch Brothers, Adelson or Karl Rove in isolation, I want to try to understand the flow of vast dollars through the system of political finance; I want to build a graph (in the mathematical sense) for this data.  Excited by the data provided as part of the "Follow the money" contest sponsored by  Center for Investigative Reporting (CIR) and  Investigative Reporters and Editors, Inc. http://www.kaggle.com/c/cir-prospect , this seemed possible.
I've completed a gross, first-pass analysis, and one result is captured by this figure: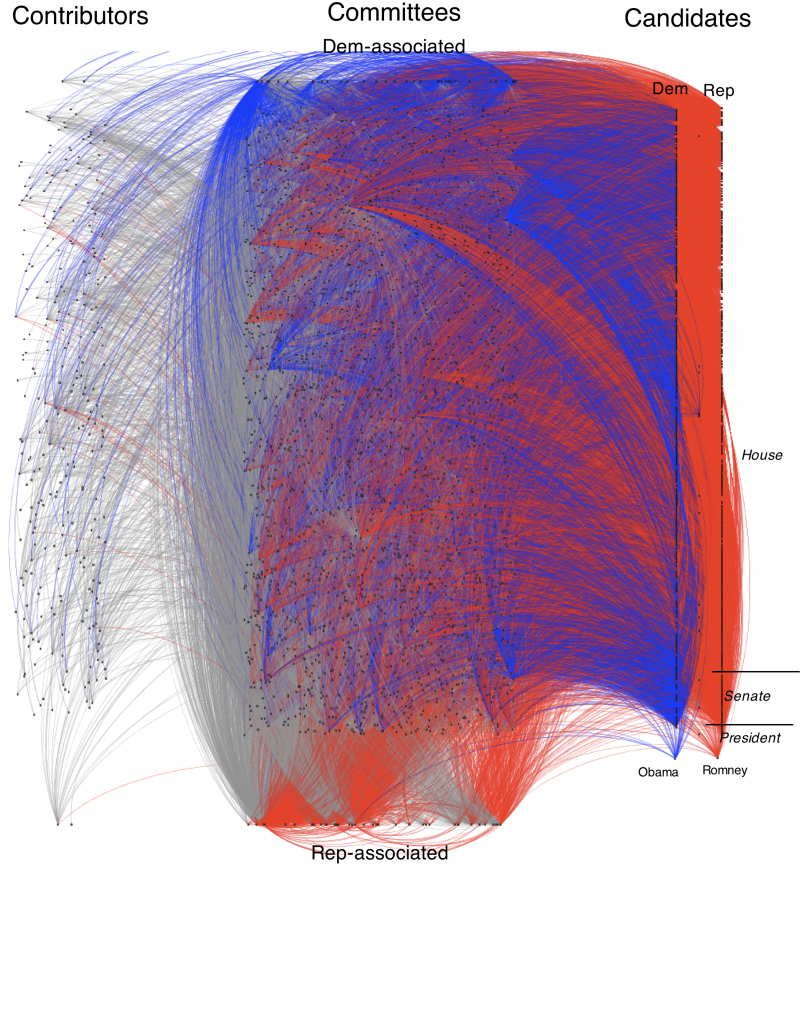 This is a 7Meg PNG image; a 400K JPG  is also available here:
This shows contributors on the left, providing funds to a large set of committees in the middle, which provide funds to candidates on the right.  Blue/red colors have been used to flag Democratic/Republican party affiliations of candidates and some committees.
A second analysis focuses on "competitive races", the set of candidates competing for the same office.
There are of course many important details as to how these graphs were constructed.  I've provided a brief description in this CIR tech report (updated 12 Nov, PDF,  12Meg).  Behind this there is ~1000 lines of Python code digesting the original mysql database provided by CIR via Kaggle.
This (12 Nov 12) update is now post-election.  While my work certainly informed my understanding of the 2012 election, I am sorry to say that none of it is conclusive.  My goal now is to do better for 2014.  If you find any of this useful in the iterim, please let me know!
Boy, do I wish the CIR organizers at Kaggle had alerted us to these!